Shidoshi Jean Francois "Phoenix" Le Grand is the Founder & Creator of Lost Legacy Systems Traditional Mixed Martial Arts and all systems within it.  Founded in 1998, Lost Legacy Systems is an eclectic system of Martial Art Styles; consisting of elements and concepts from Chinese, Japanese, Korean, African, American and Thai Martial Arts.  Specifically, different forms of Chinese Kung Fu; Japanese Karate, Jiu Jutsu, Ninpo/Ninjustsu and Kobū-jutsu, African Montu Arts and Martial Sciences and Korean Tae Kwon Do. His fusion of five ways of fighting – hands, feet, throwing, grappling and weaponry form into one effective, extreme and innovative Martial Arts system of combat. Lost Legacy Systems consists of: Lost Legacy Traditional Mixed Martial Arts, Lost Legacy Kung Fu, Lost Legacy MMA, Lost Legacy AfraKata and Lost Legacy S.T.E.A.L.T.H. Kage Ninpo Ryu.
Lost Legacy Systems Traditional Mixed Martial Arts of South Florida, USA is the one of the most sought-after systems, highly recognized for its survivalist, realistic combat, high energy and explosive styles effective in any and all fight and self-defense circumstances.
BIO
Shidoshi Le Grand was exposed to the Marital Arts in Haiti by his parents who were both Black Belts.  In 1974, he began his official training in Tae Kwon Do under direct tutelage of uncles Grand Master Dr. Jude Innocent (10th Dan of Tiger Jude 7 Styles Martial Arts, descendant of Grand Master Sifu Carter Wong), Grand Master "Tiger" Paul Innocent (9th Dan of Tiger Paul Tae Kwon Do Modern Karate) and the late Master Pierro Innocent.  The Innocent and Le Grand families emigrated to the United States and Canada, where as a youth, Shidoshi continued his martial arts training in New York within various martial arts styles between 1978-2002.
In 1989 Shidoshi was encouraged by his uncles to become a student of different martial art forms.  It was at that time as a 4th Dan that he was introduced to the late Grand Master Richard Sinclair Sr.  (10th Degree Black Belt) of the Iron Octopus Martial Arts Survival Defense Academy (IOMASDA Ryu), Brooklyn, NY.   Sosai Sinclair was well renowned for his intricate system of combat which combined the stylings of Karate-Do, Ninjutsu, Kobujutsu, Taijutsu, Aiki-jujutsu and Tae Kwon Do.  It was at IOMASDA under the tutelage of Sosai Sinclair that Shidoshi Le Grand was exposed to the teachings of Martial Arts legends the late Professor Ronald Duncan, Sr. (Father of American Ninjutsu/Way of the Winds) and the late Dr. Moses Powell (Sanuces Ryu Jiu-Jitsu).  As an advanced practitioner of the Arts, Shidoshi quickly mastered the curriculum at IOMASDA and within five years, earned the rank of 2nd Degree Black Belt and title of Chief Instructor where he conducted classes under the IOMASDA system.
While continuing to study under Grand Master Sinclair and Grand Master Dr. Jude Innocent, Shidoshi Le Grand was introduced to the Yan Jay Pai Kung-Fu System of Grand Master Sifu Carter Wong.  Having mastered numerous Martial Arts disciplines and systems, Shidoshi was in inspired to create his own system that would innovatively and effectively combine the styles and elements of: Tae Kwon Do, several forms of Jiu-Jitsu, Ninjitsu, Tai-jutsu, Aiki-jujitsu, Uke-Jutsu/Ukemi, Karate-Do, Judo, Kung Fu, Kobu-Jutsu/Kobudo, Grappling, Wrestling and Ground Fighting, Boxing and Hand-to-Hand Combat.  Thus, in 1998, Lost Legacy Systems Traditional Mixed Martial Arts was created.  Shidoshi continued to cross-train in many styles in search of perfection in art, form and philosophy in which to create the strongest foundation possible for Lost Legacy Systems.
Ultimately, in 2000, Shidoshi Le Grand made the decision to depart from instructing at IOMASDA so that he could focus solely on the perfection and promotion of Lost Legacy Systems.  Of humble beginnings, Shidoshi began sharing his diverse system of combat with close associates, family members and at-risk youth.  In 2002, Shidoshi decided to broaden his reach and expand his exposure of Lost Legacy Systems to martial arts practitioners.  It was at this time that he moved to South Florida to promote Lost Legacy while entrusting the teachings of his system to his high ranking Black Belts back in New York.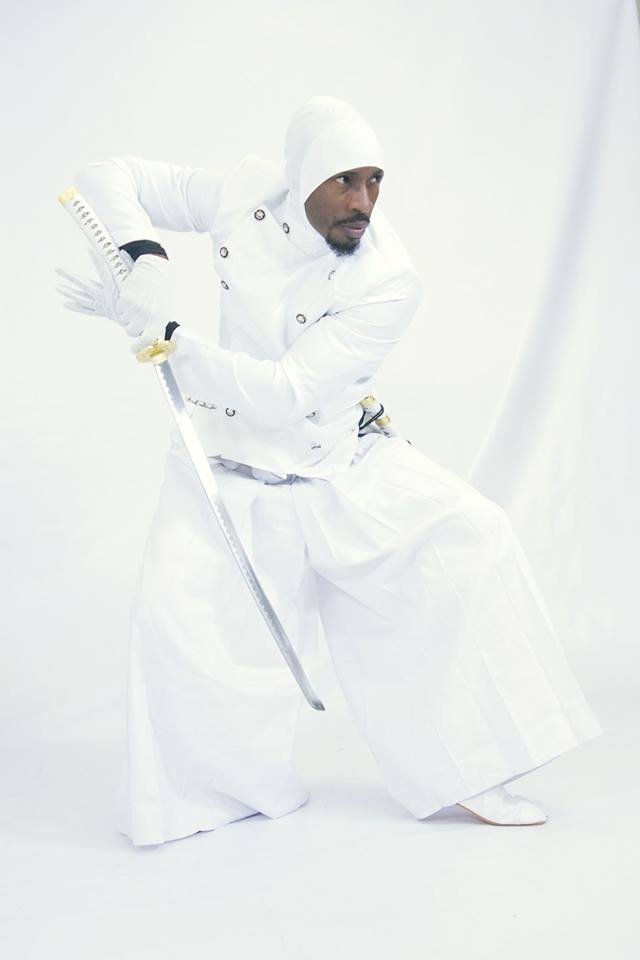 In 2004, Lost Legacy Systems of combat was accredited and internationally recognized with a Foundership Certification under the World Organization of Mixed Martial Arts (WOMA). Naturally, Shidoshi's next mission was to open his first school.  In 2005, Shidoshi Le Grand opened Lost Legacy Systems Traditional Martial Arts School in Margate, FL with a full curriculum emphasizing total physical, mental and spiritual conditioning.  Within a very short period of time, Lost Legacy Systems had become one of the most sought after martial arts schools in South Florida, highly recognized for its diversity and solid Martial Arts foundation.
Shidoshi Le Grand has been relentless in his pursuit of exposing Lost Legacy Systems and the philosophies within it to any and all individuals, both practitioners and non-practitioners alike. Today, he remains inexorably active and present within his dojo, facilitating and being featured in countless demos, seminars, expos, publications and MMA fight promotions.  Currently, he continues to study Chinese martial arts styles under Songshan Shaolin Traditional Wushu Academy, Jun Mo Wing Chun Association and Lee Koon Hung Choy Lay Fut Kung Fu Association and Japanese martial arts styles of Satori Kobu-Jutsu Kai and Tetsu Onigawara-Jutsu under Hanshi Lee Haughton. Shidoshi is also as an actor, director, writer, filmmaker and fight choreographer within the action film genre with his stunt team called Team Legacy Stunts of South Florida & NYC, under his production company It's Your Best Kept Secret Multi-Media Group, Inc.
Shidoshi Jean Francois Le Grand, Lost Legacy Systems Traditional Mixed Martial Arts and Team Legacy have an immense social media following where he consistently promotes the Lost Legacy brand and philosophy, ending every post with "THE LEGACY CONTINUES…"
HIGHLIGHTS
Rank: 8th Dan/Degree Black Belt
Martial Arts Style + Disciplines: TIGER JUDE 7 STYLES KUNG FU & KARATE, TIGER PAUL TAE KWON DO MODERN KARATE, DUNCAN MARTIAL ARTS/WAY OF THE WINDS NINJUTSU, IOMASDA RYU (TETSU TAKO DO), SANUCES RYU JIU-JUTSU & NEW SHAOLIN BOXING KUNG-FU/ASSOCIATION, SATORI KOBU-JUTSU KAI, TETSU ONIGAWARA-JUTSU
Dojo: Creator, Founder + Master Instructor of LOST LEGACY TRADITIONAL MIXED MARTIAL ARTS (and all systems within it including Lost Legacy Kung Fu, Lost Legacy MMA, Lost Legacy AfraKata and Lost Legacy S.T.E.A.L.T.H. Kage Ninpo Ryu), South Florida, USA
Lineage: Under the tutelage of Grand Master Tiger Jude Innocent, descendent of Grand Master Sifu Carter Wong and Grand Master "Tiger" Paul Innocent. Under the tutelage of the late Grand Master Richard Sinclair, descendent of the late Grand Master Moses Powell and the late Grand Master Ronald Duncan, (Father of American Ninjitsu)
Years Active in the Martial Arts: 44 (32 years as an Instructor)
Instructorships: KOBU-JUTSU & KOBUDO (ART OF WEAPONRY) UNDER SATORI KOBU-JUTSU KAI, TETSU ONIGAWARA-JUTSU, AIKI-JU-JUTSU AND SUPERVISION OF HANSHI LEE HAUGHTON, UKE-JUTSU/UKEMI (ART OF FALLING), TAIJUTSU & AIKI-JUJITSU, "IRON SKIRT" TECHNIQUES, MEDITATION & YOGA SINAI, PLY METRICS & CORE
Professional Organizations: The New Shaolin Boxing Association (N.S.B.A.), Kuro Bushi International (one of the original Founding Fathers), Way of the Winds Martial Arts System, Family of Sanuces (F.O.S.), Dong Koo Yudo Kwan, Jun Mo Wing Chun Association, Lee Koon Hung Choy Lay Fut Kung Fu Association, International Meihua Quan Federation, S.W.A.M. Academy of Modern Martial Science
Advanced Degrees: Bachelor's Degree Psychology + Honorary PhD Martial Arts/Asian Philosophy, Theory & Concepts
Awards/Recognition:
-2018 Action Martial Arts Hall of Honor Esteemed Modern Warrior Award
-2017 Who's Who in The Marital Arts Award
-2017 Munich Martial Arts Hall of Honours Founder of the Year
-2017 Elite Martial Arts Magazine Shield of Honor + Medal of Respect
-2017 Action Martial Arts Hall of Honor Outstanding Contribution as an Ambassador to the Martial Arts
-2016 Nominee of Black Power Award: Self Defense & Protection
-2016 Action Martial Arts Hall of Honor Ambassador of Goodwill to the Martial Arts
-2016 EXPO10 Masters of the Martial Arts Award
-2015 Mwanzo Vita Saana Bitma Honors HODARI MZEE Award
-2015 Action Martial Arts Hall of Honor Silver Lifetime Contributions 35+ Years to the Martial Arts
-2015 House of Warrior Families Kuroshi-Kai-Kan Recognition Award
-2004 Worldwide Martial Arts Hall of Fame Silver Lifetime Achievement Award
-2004 World Martial Arts League Hall of Fame American Fudoshin Award
-2003 United States Martial Arts International Hall of Fame Humanitarian Award and Most Dedicated Martial Artist Award
-1999 Teacher of the Year IOMASDA, presented by the late Sosai Richard Sinclair
-1999 Black Man of Distinction Award (NY)
Other Instructorships & Certifications:
-Instructor of Ply Metrics & Core
-Instructor of Gymnastics & Tumbling
-Instructor of Law Enforcement
-Instructor of Pressure Point Tactics & Joint Manipulation
-Instructor of Women's Self Defense
-Instructor of Unorthodox Boxing & Kick Boxing
-Instructor for the Handicap & Disabled
-Instructor for Special Needs Children
-Instructor for the Elderly
-Certified & Licensed Body Guard/Executive Protector
-Certified & Licensed Concealed Weapons Carrier
-Certified & Licensed Bails Enforcer/Fugitive Recovery Agency
-Certified & Licensed Security Officer
-Certified Nutritionist, Personal & Aerobics Trainer
-Certified Advance CPR, AED, & First Aid for adult and child
-Certified Diversity Trainer, Out Reach Worker & Counselor for "at-risk" youth
MODEL, ACTOR, DIRECTOR & FIGHT CHOREOGRAPHER CREDITS
PRINT & MULTI-MEDIA:
2017 WHO'S WHO IN THE MARTIAL ARTS
LEGENDS EDITION
ELITE MARTIAL ARTS WORLD MAGAZINE
RIO OLYMPIC SPECIAL ISSUE
MARTIAL ARTS WORLD BOOK VOL. 7
FEATURE ARTICLE
WINQBID.COM
CARBON FILM
ROLE: MALE TRAVELER
ANCIENTFUTURECOLLECTIVE.COM
HIGHLIGHT
"FISTS OF FURY"
BKOKUNGFU.COM
INTERVIEW
MMARATED.COM
ARIEL HELWANI INTERVIEW
LOST LEGACY SYSTEMS MMA
WEMERGE MAGAZINE
COVER STORY
"THE ART OF WAR"
NINE 5 FOUR MAGAZINE
COVER STORY
"ONE MAN; SO MUCH TALENT
SD-7
WEBISODES MINI-SERIES
ROLE: "MASTER SHADOW"
NIGHT VISIONS
PHOTOG ANTHOLOGY
FEATURE MODEL
THE BLACK BOOK
JOHN HEALY PHOTOGRAPHY
FEATURE MODEL
SHIAI MAGAZINE
FEATURE ARTICLE
FLYSTYLELIFE/FLS MAGAZINE
FEATURE ARTICLE
TELEVISION, ADS & APPEARANCES:
MARVEL CHARACTERS INC.
DVD RELEASE EVENT
ROLE: SPIDERMAN
ACTION MARTIAL ARTS MEGA WEEKEND
APPEARANCE/AWARD RECIPIENT
ATLANTIC CITY NJ
WSVN-TV DECO DRIVE MIAMI
SHIREEN SANDOVAL INTERVIEW
LOST LEGACY SYSTEMS MMA
THE URBAN ACTION SHOWCASE
SPECIAL APPEARANCE
NYC, NEW YORK
MIAMI PRO-AM
MARTIAL ARTS DEMO
LOST LEGACY SYSTEMS MMA
BRUCE LEE COMMEMORATIVE
MARTIAL ARTS DEMO
SPECIAL APPEARANCE
ABZ OF ADONISS
BODY BUILDING CHAMPIONSHIP
MARTIAL ARTS DEMO
LOVE, LUNG QING QIGONG
"THIS IS WHY I DO QI GONG"
VIDEO APPEARANCE
KOMPA TV SOUTH FLORIDA
FULL HOUR INTERVIEW
GAP, CALVIN KLEIN, MOSSIMO
FULL BLOWN ADS
MALE MODEL
THE RICKEY LAKE SHOW
"SEARCH FOR THE SEXIEST INT'L HUNK"
CONTESTANT
FEATURE FILM, SHORTS & STAGE
JEFF CARROLL'S THE DEATH PLEDGE (SHORT FILM)
FIGHT CHOREOGRAPHY: JEAN PHOENIX LE GRAND
DIRECTOR: JEFF CARROLL
EQUILIBRIUM LEGACY (FEATURE FILM)
ROLE: PTAH
DIRECTOR: JEAN PHOENIX LE GRAND (IYBKS MULTI MEDIA)
THE LEGEND OF KUNG FUNK (SHORT FILM)
ROLE: GANG LEADER
DIRECTOR: JEFFREY LESLIE (DA MARTIAL ELEMENTS)
WHEN DRAGONS AWAKE: WAR (SHORT FILM)
ROLE: GENERAL AEON SKY OF THE PATRIARCHS
DIRECTOR: JEAN PHOENIX LE GRAND (IYBKS MULTI MEDIA)
WRITER: STACEY ADAMS (JSAP MEDIA)
OOMPA (MINI MOVIE + MUSIC VIDEO)
ROLE: GUARDIAN ONE
DIRECTOR: RIC PROTHEUS RODRIGUEZ    (PROSTREAMZ FILMS)
LEGACY BEGINS CHAPTER ONE (SHORT FILM)
ROLE: SHIDOSHI
DIRECTOR: PHOENIX LE GRAND  (IYBKS MULTI MEDIA)
BEAST: CHRONICLES OF PARKER (SHORT FILM)
ROLE: PHOENIX ASSASSIN
DIRECTOR: SIFU ROBERT SAMUELS (R 4 FILMS LLC)
THE SALES ASSASSIN, A. CALIENDO (PROMO VIDEO)
ROLE: LEAD NINJA
FIGHT CHOREOGRAPHY: LOST LEGACY SYSTEMS
DIRECTOR: WILLIAM HORNECK (S FL PRODUCTIONS)
BULLETFIST: NO RESPECT IN HONOR (SHORT FILM)
ROLE: PHOENIX STAR
FIGHT CHOREOGRAPHY: PHOENIX LEGRAND
DIRECTOR: JON VINAZZA/DAWN DUBRIEL (UNDERLAB STUDIOS)
SECRET WARS (ULTIMATE MASTER), MARTIAL ARTS FILM
ROLE: EVIL DREADED NINJA
CHOREOGRAPHY: SIFU ROBERT SAMUELS
DIRECTOR: SIFU ROBERT SAMUELS (GLORY FILMS PRODUCTIONS)
HUMANITARIAN PROGRAMS
1993-2000 Street Outreach Worker and Counselor – Flatbush Development Corp. – Targeted "at-risk" youth ages 13-21. Put them in well-selected programs, activities including Martial Arts, and group discussions. A Mayor Dinkins Program funded by the City of NY.
1996 & 1997 Summer Sports Camp – Brooklyn, NY – wrote proposal and safety plan and presented it to the New York Department of Health. Positions in camp were Executive Director, Camp Director, Sports & Activity Director, and Counselor. Assisted in organizing out-door trips, activities, educational games, and instructing a one hour Karate class.
2001-2002 Office of Senator Carl Andrews – City of NY – Involved in Politics. Organized and assisted Senator's committee in city functions. In charge of various colleges involving student election/voting debates. Worked voting polls.
2002 Personal Training & Martial Arts for Kids – New York Sports Club, NYC – Organized and created program for parents to drop off children while they work-out in the gym.
2003-present Team PHOENIX™ – Cities in Florida – newly formed non-profit program which targets families and communities of youths in FL who can't afford the cost of Martial Arts for their children. It is FREE Martial Art training, training the child for group demonstrations and tournament appearances. In order to qualify for this program, the participant must conclude a list of task in order to show commitment and dedication. It builds troubled and/or interested youths into Instructor Material. It also sponsors all forms of outreach social services, group homes, activities, day cares and camps throughout the cities in FL.
2003-present City of Coconut Creek – Coconut Creek, FL – assisting in organizing recreation programs and activities dealing with martial arts demonstrations and seminars through out the city.
2003-present Ark Ministry Christian Church – Fort Lauderdale, FL – Assisting in a vision to build a 24 hour prayer and counseling outreach service to anyone; residential facilities for men, women, girls, boys, and senior citizens; a Christian School; a long term facility for troubled youth and Evangelistic Outreach Crusade Teams to reach the lost. This is under the direct supervision of Pastor Allen Jackson.
2003-present IMPACT community Services, Inc. – Lauderhill, FL – Volunteering Martial Arts services to this non-profit social services agency for at-risk youths ages 13-18 which all live in a group home facility.
2003-present New Life Ministries – Pompano Beach, FL – Christian Youth Programs, food Assistance, clothing bank, support groups, motivational speaking, referrals, substance abuse, inmate, sports psychologist, counseling, and of course Martial Arts. Under the direct supervision of Rev. Glenn Bostic.
2004-present Lost Legacy Children's Foundation – South Florida – Program put together by Black Belts Instructors of Lost Legacy to sponsor children with low income households, single parent homes, group homes, or abusive households.
2005-Grand Kumite at LOST LEGACY SYSTEMS University of Martial Arts
2006-TEAM PHOENIX, Inc. – Collaborates with the Children's Foundation created in 2004.
2007-2009-NEW ADVENTURES PRE K Academy. provided Martial Arts Enrichment to children 4 & 5yrs old.
2007-present LOST LEGACY SYSTEMS Martial Arts Enrichment Classes at North Broward Prepatory Schools, Coconut Creek Florida
2008-2010 LOST LEGACY SYSTEMS at Eagles Landings Summer & Night Owls Camp, Coconut Creek Florida
2009-2010 LOST LEGACY SYTEMS at PrimeTime Performance Fitness Center
LETTERS OF COMMENDATION
Government, Fraternity, Family & Friends, Students, Companies, Martial Artist, Churches, and more…
(References and copies of letters upon request)