Lost Legacy MMA School of Mixed Martial Arts in Coconut Creek & Pompano Beach, FL USA

Lost Legacy MMA is a true Mixed Martial Arts system combining elements and concepts from Japanese, Chinese, Korean, American, Filipino, Thai and Russian martial arts. Learn Jiu-Jitsu, Judo, Wing Chun, Modern day Self-Defense, Ground fighting, Multiple opponents, Weapons/Disarms etc.
Come in for a free class and tour our 15,000 sq ft, State-of-the-art, Mixed Martial Arts Gym.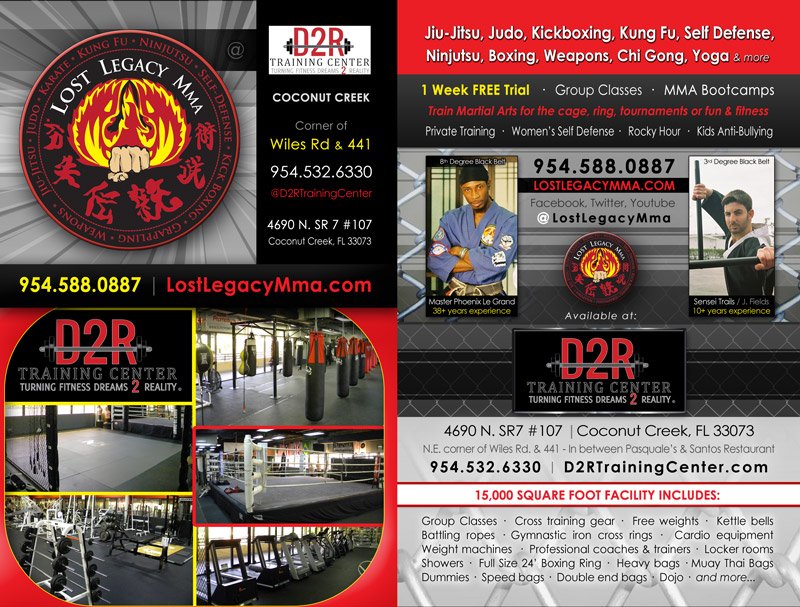 Classes are run by 8th degree Black Belt and Master, Phoenix Le Grand, who has over 38+ years experience in Martial Arts and 20+ years as a personal trainer. Sensei Fields has over 10+ years in MMA and is a 3rd Degree Black Belt. Special guest instructors are also common.
Lost Legacy is highly recognized for a solid Martiat Arts foundation and sought after in South Florida for being a realistic combat system that is effective in the cage or the streets. Be ready to work!
Located @:

Dreams 2 Reality Training Center
4690 North State Road 7, Suite 107
Coconut Creek, Florida 33073
On the North East corner of Wiles & 441.
Classes are held Tuesdays & Thursdays from 6:30pm-8:30pm and Saturdays from 1:30pm-3:30pm. The facilities and gym are open to students for practice everyday! Private instruction available.
Lost Legacy MMA #: 954.588.0887
D2R Training Center #: (954) 532-6330
Click here for directions to our MMA School in Coconut Creek, FL
---
UFC

Thiago "Pitbull" Alvez

stops by to train at the Dojo & shouts out Lost Legacy MMA

NFL Superstar

Willis Mcgahee endorsing

Lost Legacy Martial Arts

founder,  Jean Phoenix Le Grand.
Sensei Phoenix has worked as a bodyguard for Willis Mcgahee on numerous occasions and remain friends with Willis and his manager.